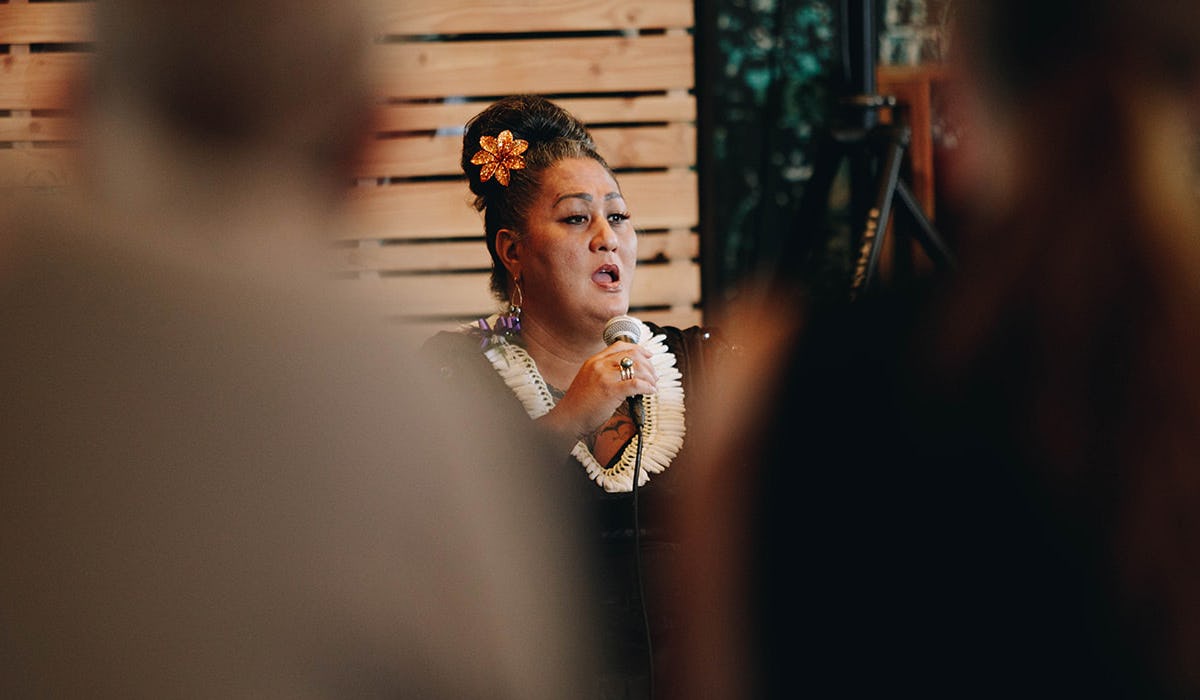 Rainbow Town Hall
A virtual panel discussion series
The Rainbow Town Hall series explores important issues affecting LGBTQIA+ people and Hawai'i's larger diverse communities. It's part of a new initiative to ensure that Pride in Honolulu extends beyond the month of October, with queer celebration, conversation, and empowerment year-round. For more information contact Ian Tapu at tapu@hawaiilgbtlegacy.com
Previously On Rainbow Town Hall
Addressing LGBTQ+ Health Disparities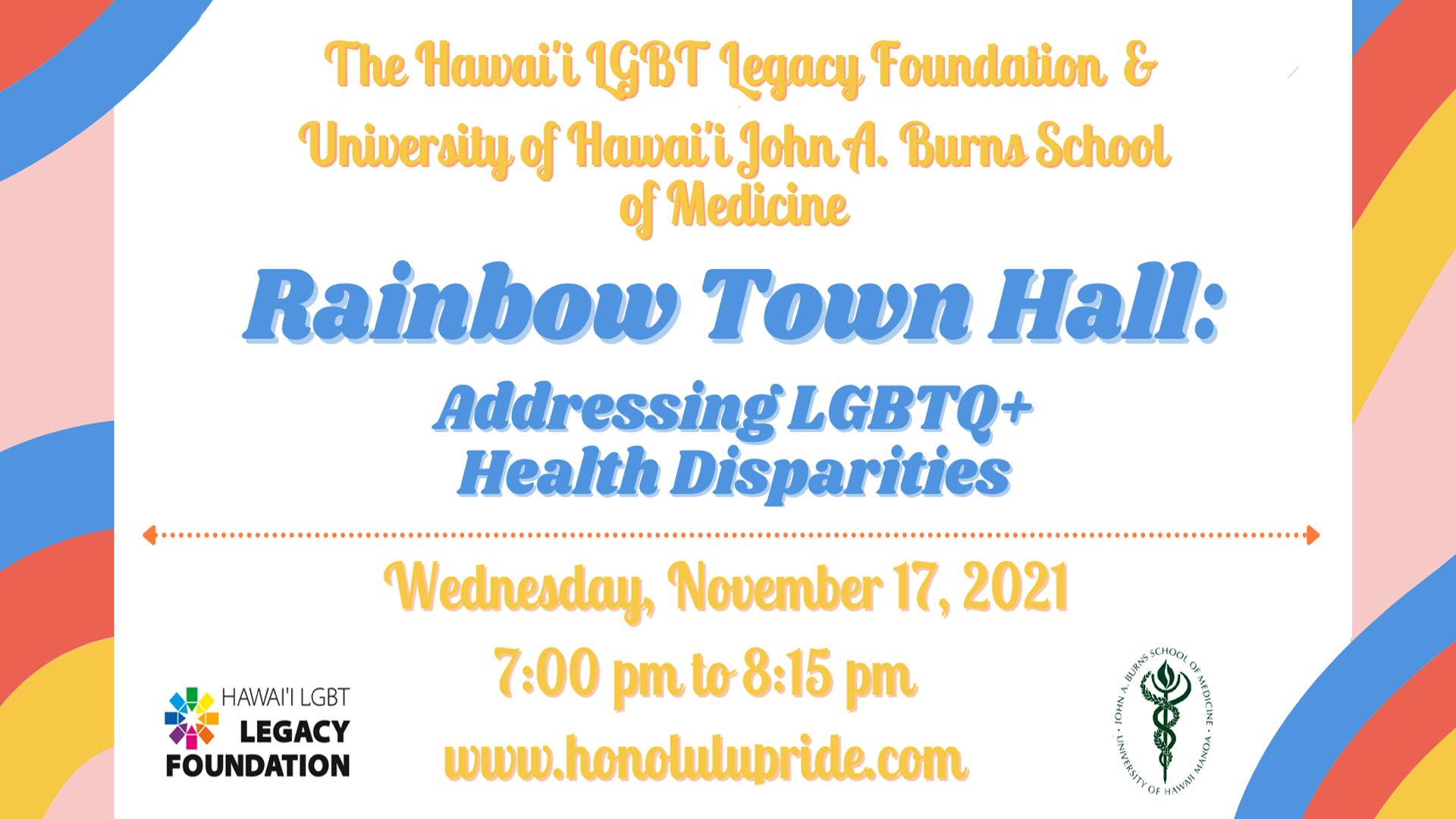 Addressing LGBTQ+ Health Disparities
Wed., Nov. 17 at 7pm on Zoom
A conversation about how we can best address LGBTQ health -- and health disparities -- here in Hawai'i, from the level of medical education into everyday healthcare practice.
Addressing LGBTQ+ Health Disparities
The Panelists
He / Him

Thaddeus Pham

Viral Hepatitis Prevention Coordinator for the Hawai'i Department of Health in the Harm Reduction Services Branch

She / Her

Dee-Ann Carpenter, MD

Associate Professor at JABSOM, in Department of Native Hawaiian Health and Office of Medical Education

He / Him

Camaron Miyamoto

Director, UH Mānoa LGBTQ+ Center

Scott Denny, MSPA PA-C

Provider at the Care Pathway Center at Kaiser Permanente, specializes in Infectious Disease, HIV and transgender services
Previously On Rainbow Town Hall
Above All, Love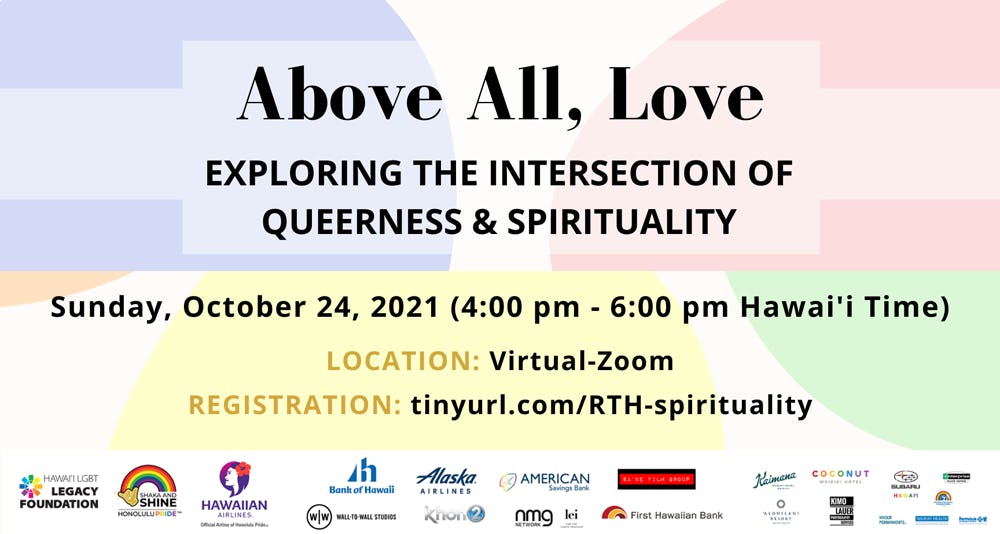 Above All, Love
Sun, Oct 24 from 4-6 PM
Queerness and religion are often contentious bedfellows in the LGBTQ community. This safe space allowed panelists to examine and explore their relationship to, and intersection between, sexual identity, gender expression, and spirituality.
Above All, Love
The Panelists
B. Lani Prunés

(she/her)

Rev. Kyle Lovett

Rev. Dr. Moses D. Barrios

Rev. Blayne Higa

(she/her)

Kristin Wiberg

Lina Robins
Previously On Rainbow Town Hall
How to Start a Movement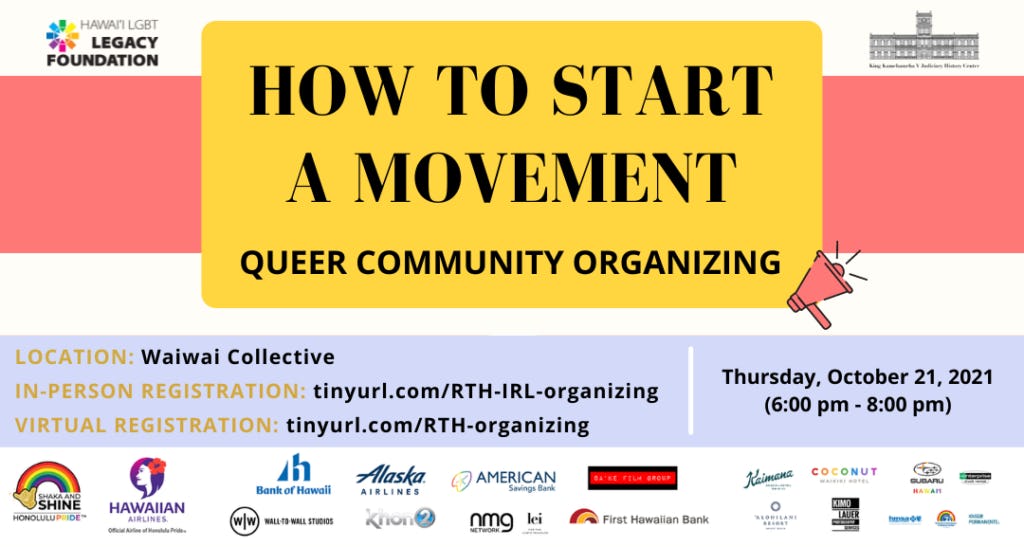 October 21, 2021
How to Start a Movement
The internet, social media, and especially the advent of the COVID-19 pandemic, have transformed how humans engage with each other. How do these changes affect communication and relationship building? And what does advocacy and community organizing look like during and post-pandemic? Panelists explored these questions, and the lessons learned in their own advocacy and community organizing work.
How to Start a Movement
The Panelists
Sarah "Mili" Milianta-Laffin

(he/him)

Thaddeus Pham

Dr. Tatiana Kalaniopua Young

Sarah Kamakawiwo'ole (MS Ed, MPH)

(she/her/'o ia)

Mana Shim

Izik
Previously On Rainbow Town Hall
Queer Indigeneity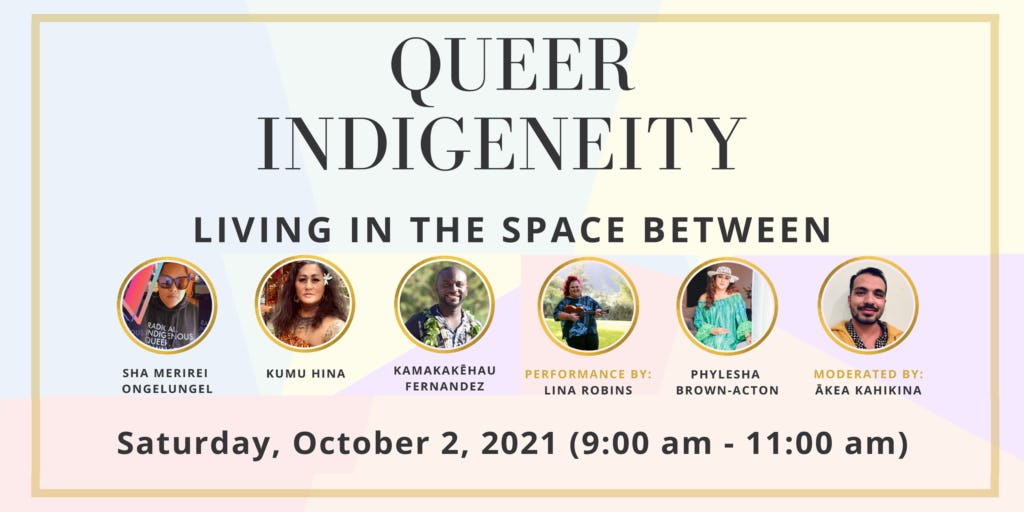 October 2, 2021
Queer Indigeneity
What does it mean for someone to be both queer and Indigenous, and how do these and other identities intersect? In this Rainbow Town Hall, panelists Sha Merirel Ongelungel, Kumu Hina, Kamakakehau Fernandez and Phylesha Brown-Acton will explore the role of history, colonization, culture and how it has informed their sexual orientation and/or gender identity. The discussion with be moderated by Akea Kahikina with a special performance by Lina Robins.
Queer Indigeneity
The Panelists
Hinaleimoana Wong-Kalu

she/her

Phylesha Brown-Acton

Sha Merirei Ongelungel

Kamakakēhau Fernandez

Lina Robins